Starmaxx was at the top of the legendary mountain race in Portugal.
NEWS
Portuguese pilot supported by Starmaxx won the Rampa de Falperra race in T4 category.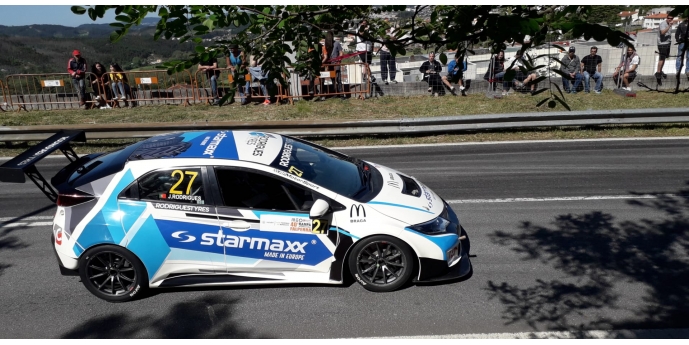 Rampa de Falperra, the legendary mountain climbing track has long been one of the most anticipated phases of TCR Mountain Championship and José Rodrigues, the Portuguese pilot supported by Starmaxx managed to won the race in T4 category, despite the fact that it was his first personal appearance in a mountain race.
With the need to handle the steep slopes and extreme bend turns, the racing track is famous of requiring ultimate speed performance, perfect grip and extreme durability features. Hence, this was a huge opportunity for Starmaxx to not only enjoy the excitement of this reputable race, but also utilize the track as a venue to show off the features and quality of its tires.
"I want to rightfully represent a high quality European tire brand which is penetrating the Portuguese market with its wide range of tires," Rodrigues had stated prior to the race that took place between 10th and 12nd of May in Braga, and he proudly did so. The successful performance that the Honda Civic TCR pilot pulled of was well appreciated by authorities as –although he had won many races before- it was the driver's debut in a mountain racing track.
Stating that he was very pleased with his debut on the mountain, the Portuguese driver concluded his post-victory speech by thanking Starmaxx and his other sponsors that helped the race become a great spectacle for the people of his hometown, Braga.
Starmaxx will keep on supporting the driver in his upcoming WTCR (World Touring Car) Race in July.